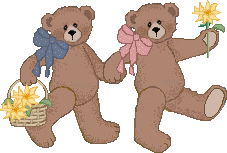 Welcome to the home of my Mary Bears. These are some of the most magnificent adoptables you will find on the internet. All
of the bears you will see here are made by Mary of Mary's Little Lamb. They have been purchased by other Mary Bear
lovers and offered as adoptions to brighten up our websites. They do a great job too!! =) If you would like to adopt one of
these bears, please click on their adoption certificate to visit their original homes as these pages are a No Right Click Zone.
THANK YOU FOR STOPPING BY TO PLAY WITH THE BEARS!!

© 2001-2002

. All rights reserved. Images used on this page are
the property of the artist(s) who created them. These images are not available
for download as they are NOT public domain. Other product and company names
mentioned herein may be the trademarks of their respective owners.
This page was updated 11:22 PM 7/5/2002.